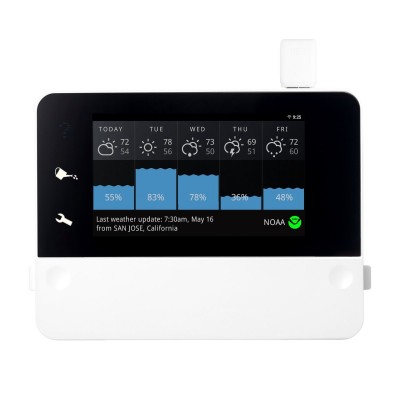 Today we review the RainMachine HD-12 Forecast Sprinkler system. This amazing irrigation control system comes in 8, 12 and 16 zones and depending on how large your lawn and shrubs are you may need to get a second system if you require more than the 16 zones. If you do opt-in for the second system then you will be happy to hear that the systems will auto-sync their clocks over your Wi-Fi network to make setting your zones a breeze.
The RainMachine unit contains a 6.5″ touch screen Android-powered display that really gives it a leg up on its competition; this also makes setup very simple without having to mess with tiny dials or buttons that generally offer slow performance. After connecting your zone wires and common wire, you'll authenticate your Wi-Fi then move onto entering your address. The reason for entering your address is what makes the RainMachine a forecast sprinkler, it immediately syncs up with NOAA weather service so it can properly forecast and adjust its sprinkler time based on how much rain it's predicting. Say NOAA is expecting rain on Thursday, RainMachine will determine how much rain you will receive then adjust its watering habits based on that data, for instance maybe it'll only produce 26% of its normal irrigation based on that data saving you buckets of money. Also, for those of you who don't NOAA, they are the real deal when it comes to weather forecasting, but just in case the device utilizes several data sources for increased accuracy. What does all this mean to you? This means a reduction of up to 25-50% of your irrigation water allowing for the unit to pay for its self within 2 years.
A few other great features we came across in our RainMachine HD-12 Forecast Sprinkler Review is its ability to update its own firmware over the Wi-Fi making those days of USB updating or direct connection updating a thing of the past. Another amazing feature is the ability to access your unit remotely, no more having to go out to the shed or garage every time you want to make a change. This can be done through both your desktop computer and mobile device. The mobile app allows you to set zones, watering times, view your watering history, check your watering forecast, and update some basic settings. The app especially comes into use for when you want to walk around your yard and manually activate zones to check for damaged sprinkler heads. You can also access the on-board web-server within RainMachine through your desktop computer if you don't want to fiddle with the touch screen.
All together the RainMachine HD-12 Forecast Sprinkler is currently the number one choice for users that are looking for a smart irrigation control, although it's just a matter of time till we get a system that'll offer the same feature but is Z-Wave compatible. Hopefully soon.
Amazon User Reviews:
Specification
Features

No Monthly Fee

Remote Access

No Other Hardware Needed
| | |
| --- | --- |
| Product Size | : 6 x 1 x 4 inches |
| | |
| --- | --- |
| Product Weight | : 11 ounces |
| | |
| --- | --- |
| Part / Product Number | : RainMachine HD-12 |
Excellent!
The RainMachine really came through with it's touch screen and remote operation features, not to mention the ability to use weather forecast data to save money on water. We would have liked to see some integration into smart home hubs like Z-Wave, maybe next time.
Compatible with other products
8