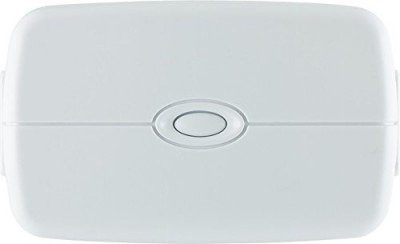 Today we had a chance to review the GE Z-Wave Wireless Lighting Control and Appliance Module to see how it stacks up to its counterparts of Z-Wave energy switches and it did well. Recently we reviewed the Aeon Labs Z-Wave Smart Energy Switch which had an amazing durable design and a very low price, so going into reviewing another Z-Wave energy switch we had a little skepticism, still this switch did not disappoint! Unlike many of its competitors, this switch contains 2 outlets which can help justify the price when you don't have to purchase two switches. For us the design is a little bulky but it's still built not to block your lower outlet. The three prong plug is rated to handle up to 600 watts which is enough to handle your average table lamp but is much less that of the Aeon Labs Z-Wave Smart Energy Switch which can handle 1875W at 15A, you won't be switching on or off any AC units or heaters.
As with any Z-Wave certified device, this will easily connect with your Z-Wave controllers like ADT Pulse, Nexia Home Intelligence, SmartThings Home and Wink controller by the push of just an "Add Device" and the built-in button. Although this is a very popular device with lots of positive reviews from customers who have made the purchase, one thing that is noted is this switch does not give you the option to dim your lighting, even though it is target toward the lighting market. Also, like many Z-Wave devices, this can act as a repeater to grow your mesh network. If you have another Z-Wave device that is out of reach of your hub, this switch will repeat the signal from the hub so you can control your device that was out of distance. All together this is a great device with many very satisfied customers with an average user rating of 4.5/5 and it will make a great addition to your smart home.
Specification
Features

No Monthly Fee

Remote Access

Cloud / Server
| | |
| --- | --- |
| Product Size | : 8.2 x 7.2 x 2.5 inches |
| | |
| --- | --- |
| Product Weight | : 8 ounces |
| | |
| --- | --- |
| Connectivity | Z-Wave (908 MHZ) |
| | |
| --- | --- |
| Part / Product Number | : 12719 |
Great!
With many very happy customers and a simple yet solid product, this energy switch performs as to be expected. We would like to see a little less bulky of a design and for the device to be able to handle more watts so we can plug in more than a table lamp, but for it's purpose we still give it two thumbs up.
Accessory Cross Compatibility
8