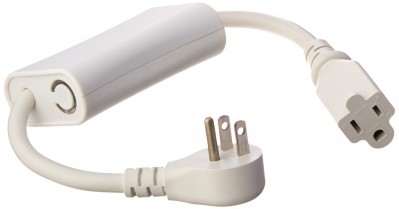 We had the opportunity to check out the buzz behind the Aeon Labs Z-Wave Smart Energy Switch and really figured out why so many customers love this product. The short version is, it's simple, durable and does what is expected. This device gives you the ability to add Z-Wave wireless control to any plug-in appliance within 100 feet of your controller whether the Smartthings Hub, Wink Hub, Mi Casa Verde VeraLite or the Revolv home automation hub to name a few.

Along with supporting up to 1875W, 15A devices, the Aeon Labs Z-Wave Smart Energy Switch also serves as a repeater for your other Z-Wave devices. Why is this relevant and what does it mean? When a signal is transmitted from your console/hub, each signal only has so much strength to make it the distance necessary to your intended target. Let's say you have a front porch light that is too far from your console/hub to receive a strong signal. Place this energy switch somewhere between the intended porch light and your hub and you have a repeater that will repeat, create a mesh network and strengthen the signal so it makes it to your porch. Many Z-Wave devices offer this ability; just make sure it's an option before making the purchase if this is your intent.
Amazon User Reviews:
Specification
Features

No Monthly Fee

Remote Access

Cloud / Server
| | |
| --- | --- |
| Product Size | : 1 x 7 x 5 inches |
| | |
| --- | --- |
| Product Weight | : 12.8 ounces |
| | |
| --- | --- |
| Connectivity | Z-Wave (908 MHZ) |
| | |
| --- | --- |
| Part / Product Number | : DSC06106-ZWUS |
The hardware itself is built to last, with a similar construction to that of heavy duty extension cord used on construction sites. Solid to the touch, the cables are thick but soft and the two ends are heavy duty, you should have no problems with wear and tear. The rest of the device is one solid build aside from the button on the side that illuminates when the switch is on. Setup is also a breeze, dependent on your hub you generally just need to search for a device from your controller then press the blue button on the switch to finish the setup. That's it!
Excellent!
The simple design, lowest cost with it's category and easy setup makes this smart energy switch an easy choice for your Z-Wave network.
Accessory Cross Compatibility
8.5