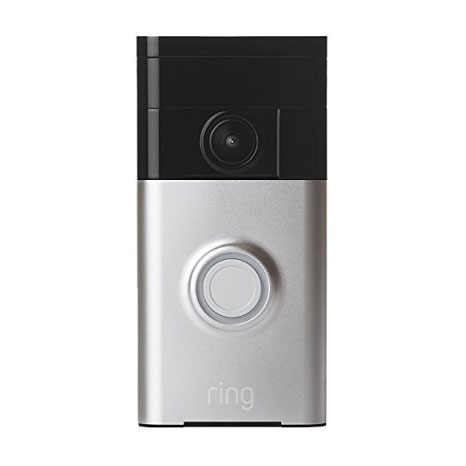 The Ring Wi-Fi Enabled Video Doorbell is exactly what the name says, a doorbell that streams video that is built by BOT Home Automation. In short, we like it and many users that have made the purchase have had a lot of nice things to say. On the other hand it does have its short comings.
Setup
After you purchase ring you will be pleasantly surprised to see it comes with everything necessary for installation including tools, drill bits, tiny level and even caulk. When installing Ring you have two options, battery powered that will need to be recharged once a year or hard wired which taps into your existing doorbell wiring (this is recommended). Now some user reviews have shown that the battery quickly dropped 3-4% after just a few hours of use leaving skepticism on the promised 1 year battery life, but after much research we haven't found a single case of the battery falling short on performance. We believe this hit is mostly from setup and people playing with their fancy new video toy. One power saving feature Ring included is making sure the device only connects to your network when it is in use, cutting down on unnecessary juice and Wi-Fi bandwidth. Continuing with the setup it's now time to install your Ring app, create an account, pick a device and confirm your address. Afterward you'll be instructed to push the orange button on the back of the faceplate to link the device to your network marking the completion of your Ring installation. All together setup generally takes 5-15 minutes depending on if you hard wire or use batteries.
Hardware and Features
Once installed you will see why so many people like this device. Located near the top sits the 180-degree HD camera that delivers Ring's 720p video stream. Next to the camera you now have a motion sensor giving you the ability to stream a live audio and video feed whenever someone is at your door without having to wait for them to push the button, which also makes a great security feature. Along with the motion sensor you have the option of setting the sensitivity for different zones anywhere from 5-30 feet. You will find the importance of this feature after you get a few false alarms from your motion detector. Below the camera and sensor you have your round LED light surrounding your doorbell button making it easy for your guest to find at night. In addition you also have speakers built into the bottom of the device allowing you to listen to your guest and respond back if need be with clear audio coming in and out for both you and your visitor.
Now the Ring Video Doorbell comes with the option of cloud storage for your video that will run you $3 a month or $30 a year if you choose to use it. BOT Home Automation also stresses that they stand behind their product with a lifetime purchase protection that replaces your device in the off chance it were to get stolen. One thing we do recommend when purchasing this product is that you have a strong Wi-Fi connection leading up to your door. Some users have reported a delay between ringing the doorbell and the push notification reaching your smart phone, some delays lasting up to 5-30 seconds. This can be avoided with a strong signal and some recommend that hard wiring the device also helps. We also would have liked to see more integration with smart home hubs and maybe an IFTTT channel which the folks at Ring say they are looking into for the future. More features to be expected in the future are weather sensors to collect data like temperature, humidity and barometric pressure. For $199 we still think Ring is a great purchase simply because of the added value you get from the security features alone, but if Bot sticks with their promises of improvements in future roll outs then this definitely has the potential to be a grand slam.
Amazon User Reviews:
Specification
Features

No Monthly Fee

Remote Access

Cloud / Server

No Other Hardware Needed
| | |
| --- | --- |
| Product Size | : 0.9 x 2.4 x 5 inches |
| | |
| --- | --- |
| Product Weight | : 1.2 pounds |
| | |
| --- | --- |
| Part / Product Number | : 88RG000FC01 |
Great Features!
Great device that for the most part delivers on everything promised along with huge possibilities for future roll outs. The only recommendation we make before you make your purchase is that you have have a strong Wi-Fi signal leading to where the device will be located, if not the video can be a little choppy.