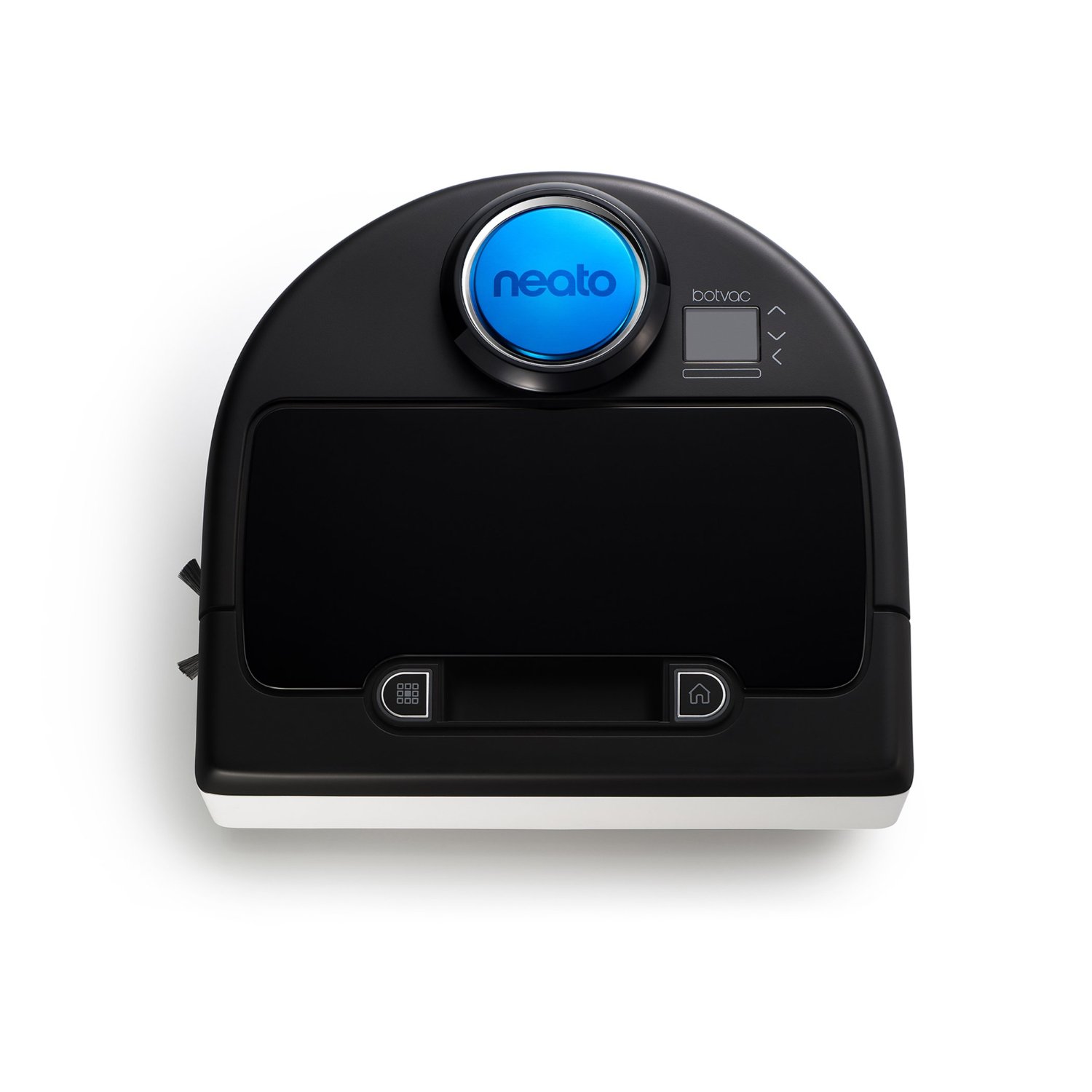 When people think robotic vacuums the first thing to come to mind more often than not is the Roomba and they are quick to dismiss many of it's competitors, not this time. For many reasons the Neato robotic vacuums are taking the lead, especially when it comes to the D series. This smart little guy comes loaded with features including autonomous charging, laser-guided room mapping, extra-large dirt bin and precise edge technology giving it the ability to clean corners better than most other robot vacuums.
The Neato robots are also known for their ability to map out rooms quicker due to it's patented Naeto Botvision that for the most part maps the edges of the room first before cleaning the center area unlike it's counter-parts that seems to randomly zig-zag across the room for it's mapping causing the robot to go over some areas multiple times. This technique not only saves time but also allows to robot to create those parallel vacuum lines everyone loves after a fresh vacuuming.
Features and design
Now if you have used Neato's later models like the Neato's Botvac 85 then you should be familiar with the LCD screen. The difference now is that the screen is color and more sensitive controls. Other upgrades from it's later models include a more capacity for dust collection at 24 oz (0.7 liters), reduced noise levels and more efficient bristles and brushes that are not only 50% larger but also can be easily detached for fast replacement. The new filters in combination with the new SpinFlow power clean system also allows for better air flow when capturing debris and dirt thus better performance and battery life. The batteries themselves are made of a nickle metal hybrid and are capable of charging at both 110v and 220v. When on standby the robots power consumption is 1w and 2w when charging.
Amazon User Reviews:
Specification
Features

No Monthly Fee

No Other Hardware Needed
| | |
| --- | --- |
| Product Size | : 12.7 x 13.2 x 3.9 inches |
| | |
| --- | --- |
| Product Weight | : 9 pounds |
| | |
| --- | --- |
| Connectivity | None (Autonomous) |
| | |
| --- | --- |
| Part / Product Number | : Neato Botvac D80 |
Another notable feature mentioned earlier is the Naeto's D shape that separates its self from the competition by getting into corners better than the other round robots. Now some drawbacks on later model robots included having trouble with stairs, this is another issue the D serieshas overcome by having the ability to avoid falling down stairs by simply stopping and turning around and adding the stairs to it's map.
Some available accessories include hyper allergenic filters that catch those small particles for people sensitive to allergens. Boundary markers are also available to tape off areas you may not your robot to go like the dog bowl area or kids room with legos everywhere. One more useful accessory is the specialized brushes. The combo brush is designed to operate on several types of flooring while providing improved suction for pet hair and reduced noise on hardwood floors. Other brushes include the D series side brush the cleans corners and edges more effectively, and the spiral blade that cleans hardwood floors with less noise than the brush options.
To wrap up our Neato Botvac D75 / D80 / D85 review with a final thought, the new D seris by Neato really came out ahead of the competition when it comes to both price and performance. With some of the other robotic vacuums costing more than twice as much at $1200, we think this is a steal. The only decision is which model will work best for you. If you live in a small apartment and have no pets the D75 should do just fine. Anything larger or if you have a lot of pet hair then you will need to start looking into the D80 or D85 while considering the special brushes to tackle that hair.
Excellent!
All together the D Series by Neato really came out ahead of the competition by offering amazing performance at the best price.