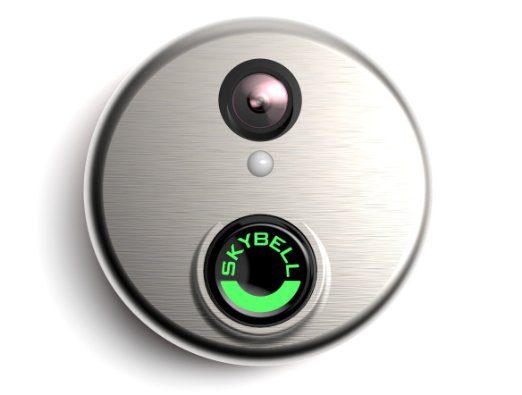 Skybell HD Video Doorbell Review
In this day in age, unfortunately, the world doesn't seem to be as safe as it used to be.  We as homeowners have been forced to take the safety of our families and possessions into our own hands.  Thankfully technology has kept up with the security needs of today!
One of the companies leading the way in home security is Skybell.  Today, we will be doing a review of the Skybell HD Video Doorbell. This doorbell can stream 1080p high definition video of visitors of all kind on your front steps right to your smartphone or tablet!  That's pretty amazing, but there are lots of HD video doorbells on the market today that can take pictures of visitors at your door.  How do you know this specific Skybell doorbell is the one for you?
What We Loved
The Skybell HD Video Doorbell, has a lot of great qualities that set it apart from its competitors.  Here's our list of its greatest assets:
Automatic Photos – This is our favorite thing about this doorbell compared to its competitors. The Skybell doorbell not only takes pictures when someone rings your doorbell, but it uses motion sensor technology to capture and stream the image of anyone (or anything) at your door.  Now you can catch those pesky raccoons red-handed in your trash or stop a would-be burglar in his tracks without any buttons needing to be pressed.
5X Zoom – This is an issue that to us is often overlooked but Skybell got it right. Many other doorbells on the market only zoom at 1X, which is enough to capture a face right at your door, but what about a face at your mailbox or a license plate of a suspicious vehicle?  The 5X zoom on the Skybell HD Video Doorbell allows for a full view of the front of your home.  This in my opinion makes it as good a security camera!
Monitoring & Recording – Skybell strikes again! The monitoring and recording functions of this doorbell also set it apart from the rest.  At any moment, without triggering motion sensors activating the doorbell, you can live stream the video feed right to your phone.  This gives you complete control over your home, knowing at any time who may be in the driveway or coming up to the door.  And if the button is pressed or motion sensor is triggered, Skybell records and stores the video on a cloud server until you are able to go over the footage yourself.
Night Vision – A simple but very useful characteristic of the Skybell HD Video Doorbell, night vision is a no-brainer for me when it comes to home security cameras, even on the doorbell. Nighttime is when we are all more vulnerable, and it would be a waste, in our opinion, to invest in a doorbell camera without it.
Built-in Speaker – Last, but certainly not least, is the built in speaker that comes standard with this device. Now you can speak to anyone that's at your door, whether it is a complete stranger or a door-to-door salesman who won't leave you alone.  On the flipside, it's great if the pizza deliveryman is early and you're still in your bathrobe. Not only that, but the person at your door can talk right back!  The ability to have full exchanges with anyone at your door without opening it gives a huge boost to the overall effectiveness of this device. We give this feature a huge thumbs-up!
The Skybell HD video doorbell has a lot of fantastic features, but there is one negative that you should definitely keep in mind before you purchase…
What We Didn't Love
This doorbell has one flaw that we have to mention.  It seems that a very strong Wi-Fi signal (as high as 95% strength) is needed for reliable streaming of your video feed.  That being said, this is not reason enough to choose a different doorbell for your home security requirements.  If anything we think it's a reason to go out and buy a new router!  All kidding aside, make sure to test your router's signal strength before buying so you can have access to this video doorbell's HD video stream.
Our Verdict
We hope this Skybell HD Video Doorbell review was helpful to you in your quest for a more secure home.  We highly recommend this product to anyone attempting to beef up their home security system and don't forget that upgrading your Wi-Fi in order to gain access to all the upsides of this doorbell would be worth the investment.
That being said, you should take the safety of your family and possessions very seriously!  Shop around and read customer reviews like this one to find out which one is best for you.  If you're asking us, though, for the price, the Skybell HD video doorbell is worth every penny.  Go get yours today!
Excellent!
We found the Skybell HD simple to install and simple to use. The quality of the video stream is a great selling point, but just make sure you have a solid Wi-Fi signal to your front door. Fair price, great features, we definitely recommend this smart, video doorbell.
Accessory Cross Compatibility
8
PROS
Lots of great features like night vision, 5x zoom, automatic photos and a built-in speaker.
CONS
Needs a strong Wi-Fi signal where this is installed, so upgrading your router may be a requirement.