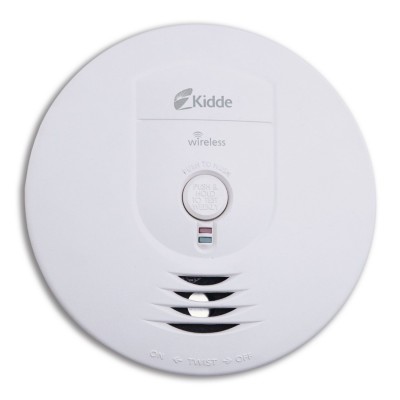 The Kidde RF-SM-DC Wireless Smoke Alarm is really an amazing smoke detector based on not only our opinion but the hundreds of other reviews set by customers who already made the purchase. We also want to add that out of those hundreds of reviews we only found a single 1-star review. The major highlight of this alarm is the fact that it interconnects using a 433MHz radio frequency throughout your home to other Kidde Wireless Smoke Alarms. This especially comes into use when you have oil engulfed in flames in the kitchen and you don't hear the alarm because you're watching your Saturday morning cartoons in the bedroom way at the other end of the house, because only the single kitchen smoke detector will go off if they are not interconnected. With interconnected alarms you get the convenience of being notified immediately because the second your kitchen alarm starts going off, your bedroom alarm goes off too. This especially comes in handy if you have a detached garage, workshop or enclosed gazebo. Also, just a reminder that many newer homes require interconnected alarms.
Another great feature is that these alarms are battery powered making installation a breeze compared to a decade ago when installing interconnected alarms would have meant rewiring the house. Unlike most alarms these also have a smart touch button to quickly and temporarily silence those nuisance alarms for when you leave the pizza in the oven a little too long. In addition they utilize ionization sensing technology which is built to better detect invisible fire particles sooner than photoelectric alarms which are built to better detect visible particles mostly associated with smoldering fires. Kidde does strongly recommend you utilize both ionization and photoelectric alarms to help ensure maximum detection of various alarms.
All together this is a simple, low-cost alarm that may not fit into our category as a smart alarm, but still deserves recognition because of its price point, easy setup and advanced "dumb alarm" features. Check out some of our other reviews on smart alarms with more features like connecting to our smart home network for off-site testing, notifications and control.
Specification
Features

No Monthly Fee

Remote Access

Cloud / Server
| | |
| --- | --- |
| Product Size | : 8 x 7.3 x 2.8 inches |
| | |
| --- | --- |
| Product Weight | : 5.6 ounces |
| | |
| --- | --- |
| Part / Product Number | : 21026044 |
Great for just a smoke alarm.
This is really a great alarm that utilizes wireless technology we hope becomes the standard for all smoke detectors in the future. But, we are a smart home review. We don't believe that the wireless technology is enough to consider it a smart alarm. We need to control everything from our smart phone before any alarm will get a review higher than an 8 from us.
Accessory Cross Compatibility
7