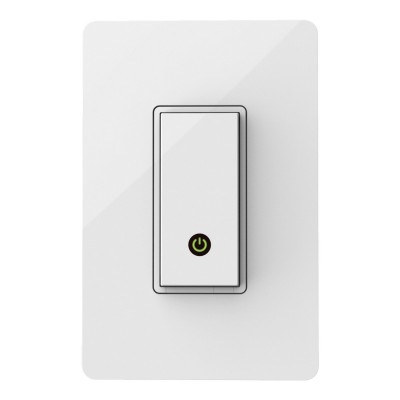 The Belkin WeMo light switch is exactly what you would expect from a well-rounded home automation light switch. It's compatible with most of today's top smart home hubs including Echo, SmartThings, and Harmony which is great for us who already have a home automation system up and running, otherwise you can connect directly to your Wi-Fi and still get all the features of a remote lighting solution. Beautifully designed this switch currently only comes in white and operates when you tap the push button that illuminates a power light letting you know your switch is on.
Once up and running you not only have the ability to operate your lights from anywhere in the world using your smartphone and tablet, but you also have the ability to assign a lighting schedule for each switch and through the use of IFTTT have specific lights automatically turn on when you enter your home. Some users have gotten creative with the IFTTT features and setup the network to send them a text if they left the house and didn't turn off all the lights in an attempt to save energy. The price tag, on the other hand, is just high enough at $50 to scare off some of the most frugal consumers, although we were able to find it for $38 which is listed below and is probably the best deal you're going to currently get. Considering the price tag we would like to see a few more features in the future that are not currently available like dimming capabilities and the ability to operate the switch from our Windows PC.
Installation & Setup
The installation is simple and shouldn't take more than 15 minutes. If you're not comfortable with the fact of wiring your own switch then we suggest finding a family member or friend to do it for you, whatever route you take just don't forget to turn off the power from your circuit break before starting. For more information on how to do it yourself, feel free to watch the installation video provided by WeMo. Another thing to keep in mind before even purchasing the switch is that this switch is compatible with any one-way connection lights, but not compatible with three-way connection lights so be sure to check your current switch before ordering. It's also recommended to use the face plate that is included with the switch or you can use a plastic plate, just try and avoid metal face plates as they may interfere with the Wi-Fi signal. All together installation is as easy as turning off your breaker, removing your old switch and connecting the new one.
After installation is where a few users have had issues. It's been reported that connecting the switch to the Wi-Fi and software can be glitchy with the users having to try several times to get the switch connected to the network through the app, but once completely installed no problems have been reported and the switch operates smoothly. At this point, you may want to take the time to become familiar with the app, setup your IFTTT recipes and lighting schedules.
Amazon Customer Reviews:
CERTAIN CONTENT THAT APPEARS ON THIS SITE COMES FROM AMAZON SERVICES LLC. THIS CONTENT IS PROVIDED 'AS IS' AND IS SUBJECT TO CHANGE OR REMOVAL AT ANY TIME.
Specification
Features

No Monthly Fee

Remote Access

Cloud / Server

No Other Hardware Needed

IFTTT Available
| | |
| --- | --- |
| Product Size | : 5.1 x 3.3 x 2.1 inches |
| | |
| --- | --- |
| Product Weight | : 4.8 ounces |
| | |
| --- | --- |
| Part / Product Number | : F7C030fc |
To conclude our Belkin WeMo light switch review it's a little disappointing it doesn't have dimmer capabilities considering the high price tag but keep in mind it's very cross-compatible with other products, simple to install, nicely designed and works with both your iOS and Android device. So if you have the money to spend we say go for it, your going to get everything you'd expect from a smart home light switch.
All together the Belkin WeMo light switch has a slick design, it's easy to install and very cross-compatible. Considering the price tag we would have liked to see dimming capabilities, with that in mind this will still make a great addition to your current home automation setup.