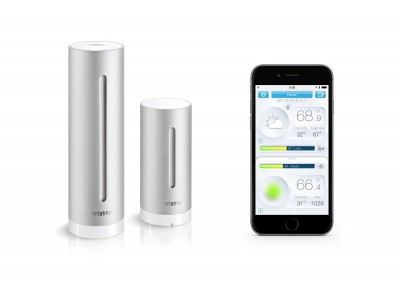 The Netatmo Weather Station comes with two modules that monitor temperature, humidity, carbon dioxide, and noise levels both inside and outside your home. With a $149 price tag, you may need some justification on making the plunge into at home meteorology. Along with your two weather stations, you receive a lifetime free personal account for your data. Catching a lot of heat from other reviewers, many can't justify the expensive price tag when much of this data is available through free smartphone apps from respectable weather monitoring services. We disagree. If you are in the market for at home weather stations then you already have your justifications and this will deliver.

Easy setup through Wi-Fi, fully integrated with your IFTTT services, compatible with Apple Home Kit, Amazon Echo, Ubi, Philips, Lutron, Smart Things, Logitech and Vera, you are looking at a very well rounded weather station. For example, through the use of the VERANetatmo plugin you're able to close blinds based on your indoor temperatures, set windows to open or close depending on humidity and CO2 levels and control your garden irrigation on how much rain has fallen in the past 24 hours.
---
PROS:
Lots of data.
Easy to setup.
Accurate.
CONS:
Expensive.
Would like more functionality and customization from front LED.
Depending on where you live, much of the data is available through free weather apps.
---
The Hardware
The Netatmo weather modules are very nicely designed 6 inch (indoor) and 4 inch (outdoor) aluminum cylinders that contain the sensors required to record your data. Both cylinders have no buttons or dials, although the indoor sensor allows you to tap the top of your module when you wish to take a reading. Powering the indoor module is a Micro-USB port on the back and then two AAA batteries are included to power your outdoor module that needs to be replaced yearly.
Setting up your system takes minutes. Plug in the USB, drop in the batteries and download the app. Once the app is installed it will walk you through the setup process, starting with copying your Wi-Fi settings from your phone to avoid having to choose a network and enter any passwords. After you finish the walk-through, the modules will give you a green glow of approval that they are ready to start tracking your local climate data. Altogether the setup takes just a few minutes.
The App
The app itself is designed to deliver the mass amount of data as efficiently as possible. The visually appealing design presents your indoor and outdoor temperatures, humidity, CO2 and noise levels with the tablet version delivering your forecast on the same screen. Tilt your device over and now you have a graph displaying your historical data all in one simple gesture while giving you the ability to navigate with swipes and pinches. As mentioned the app also offers 7-day weather forecasting provided by MeteoGroup that will project all the necessary temperatures and rainfalls.
To wrap up our Netatmo Weather Station Review we would like to note the increased functionality through IFTTT that holds limitless possibilities. We have come across users setting alerts to be sent to their smartphones when a temperature reaches a set limit, which can come in handy in say a wine cellar where you need to keep a consistent temperature. Anyone of Netatmo's fourteen sensors can set off an IFTTT trigger allowing you to set rules for just about anything.
Amazon User Reviews:
Specification
Features

No Monthly Fee

Remote Access

No Other Hardware Needed
| | |
| --- | --- |
| Product Size | : 6 x 1 x 4 inches |
| | |
| --- | --- |
| Product Weight | : 11 ounces |
| | |
| --- | --- |
| Part / Product Number | : NWS01-US |
Great!
Slick design, easy setup, lots of data and compatible with many of today's smart home hubs makes this weather station setup a great addition and is a must have if you need to monitor the climate of a greenhouse, wine cellar, elderly family member's home or maybe your just a weather geek looking for more data and control.
Accessory Cross Compatibility
8